In the words of the Professor (age 12), tomorrow is that dreaded pink day. He journaled about it, even - something like, "The girls will love it. Kissing. Hugs. Pink stuff. Hearts everywhere...but I'll warn my brothers tomorrow to run for their lives!"
This is the same kid who required that we call our parfaits "sedimentary fruit salad" because it sounded less girly.
Anyhoo, we made some cute and super-easy hearts. Don't tell the boys.
Cut strips of paper. Or, go rustic and have a child cut strips of paper.
Fold a strip of paper in half, and the fold becomes the pointy bottom of the heart.
Curve ends of paper inward and secure with glue or clear tape.
Hang dozens of them ALL OVER the boys' room. Yes!!!
Just kidding. We hung them in the girls' room (we used clear fishing line), but you could also leave them (sans fishing line) in your husband's pickup, lunchbox, underwear drawer, etc. Scandalous.
We also found this
adorable printable
(with other fun ideas linked here!)
...and some beautiful work by fellow artists...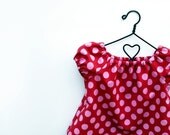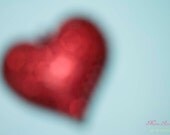 Gladiola art print
by Solhful Print Shop,
Kiss Me Quick hoop art
by Candykins Crafts,
American Doll clothes
by Doll Closet,
Soft Heart photography print
by Maria Rose Collection
Hope you all have a wonderfully pink...or not-so-pink...Valentine's Day. ♥